Michael Andrews
is a writer and editor living in San Francisco. He grew up in Needles before attending the University of California, Berkeley.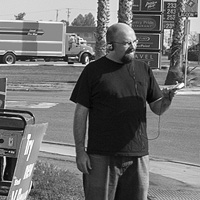 Tim Halbur is an audio/media artist, specializing in documentary‐driven interpretation using interviews as raw source material. Tim has an extensive history of creating music, designing audio for theater and environments and telling stories through sound. Tim has sound designed several projects in collaboration with Kim Stringfellow including There It Is—Take It! (2013) and Invisible-5 (2006) with lead artist Amy Balkin. Halbur worked with the Studio for Urban Projects (SUP) in 2010 to produce the acclaimed Native Ground: A Field Guide to Lake Union walking audio tour.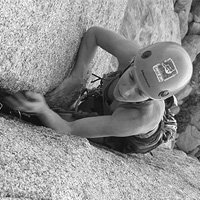 Jenny Kane is an artist and educator whose work explores community-building in diverse environments. In 2016, she received an MFA in Public Practice from Otis College of Art and Design. Currently she coordinates a Volunteer Art Program for The Joshua Tree Art Innovation Laboratory (JT Lab), an NEA funded arts initiative, hosted by Joshua Tree National Park. She spends summers guiding mountain expeditions in the Sierra.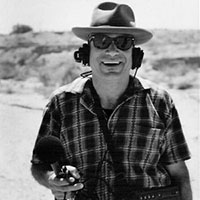 Philip M. Klasky lectures in the Department of American Indian Studies at San Francisco State University on issues of law, environmental justice, human rights, de-colonization, media literacy, cultural preservation and ethnography. He received his master's degree in Geography and Human Environmental Studies from SFSU. Klasky is the director of The Storyscape Project of The Cultural Conservancy, a non-profit organization dedicated to the preservation and revitalization of endangered Native American stories, songs, languages and ancestral lands. Klasky was involved with the ten-year campaign during the 1990s that stopped the federal government's bid for a radioactive waste dump at Ward Valley.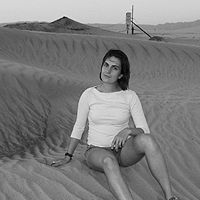 Julia Sizek
studies land use, environmental conservation, and sacred site protection in the eastern Mojave Desert of southeastern California. She is an Anthropology PhD student at UC-Berkeley and an Associate Scholar with the Native American Land Conservancy, a non-profit organization that preserves and protects sacred sites in southeastern California. She is a National Science Foundation Graduate Research Fellow and 2016 University of California Human Rights Fellow, and was the Dr. Aizik Wolf Post-Baccalaureate Fellowship from the University of Chicago Human Rights Program (2013-2014). She is an amateur geographer, avid runner and archivist of desert history.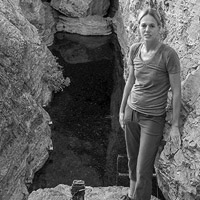 Kim Stringfellow is an artist, educator and independent curator residing in Joshua Tree, California. She is an Associate Professor at San Diego State University's School of Art + Design. Her work bridges cultural geography, public practice and experimental documentary into creative, socially engaged transmedia experiences. She is a 2016 Andy Warhol for the Visual Arts Curatorial Fellow, a 2015 Guggenheim Fellow in Photography and the 2012 recipient of the Theo Westenberger Award for Artistic Excellence. She is the creator and project director for the Mojave Project.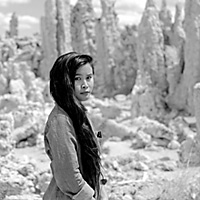 Aurora Tang is a researcher and curator. She is Program Manager at the Center for Land Use Interpretation and Managing Director of High Desert Test Sites. She received a master's degree in Art and Curatorial Practices in the Public Sphere from the University of Southern California. Selected projects include: Down to Earth: Experimental Aircraft Crash Sites of the Mojave (with CLUI); Pit Stops: Open Pit Mine Overlooks of the West (with CLUI); and Taking the Waters, a two-day HDTS program looking at the cultural significance of water in the desert, sited at past and present mineral spring retreat centers Zzyzx and Tecopa Hot Springs.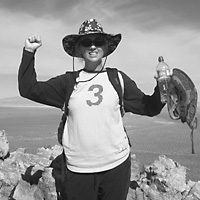 Marilyn Welch is a 21-year editorial veteran. Prior to working in publishing, she spent time at The Museum of Contemporary Art, Los Angeles, in various positions. She holds a BFA degree from Otis Art Institute of Parsons School of Design.